Back To Blog Home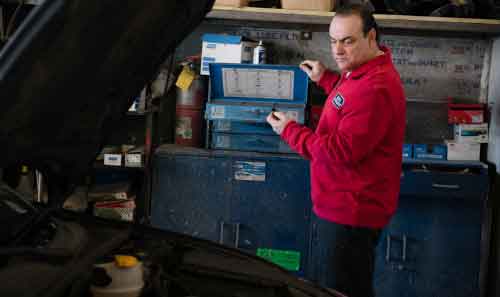 Episode 7: The Repair Is Only as Good as Its Parts—OEM vs. Aftermarket Parts
Thinking about installing customer-supplied parts? Here's what you need to know.
Everyone wants to cut costs—even you. But if a customer says they just ordered a cheaper part online and asks you to do the installation, you could be putting your good work, and their repair, at risk.
Using cheap parts can ruin a warranty. Ralph Parente has been working on cars for over 40 years. The reason he can put a two-year warranty on the work he does is because he selects the parts for repairs himself. When people try to save a couple bucks and want to use cheaper parts, he refers to the classic deli sign: "Cheap food isn't good, and good food isn't cheap."
It doesn't fit. Charles Sanville, the Humble Mechanic, says if you are weighing OEM vs. aftermarket parts, consider that the latter can spark a chain reaction of new issues. For example, if you install an air filter that doesn't fit the OEM specs, it could affect air intake, which sets off the check engine light. Or a cheaper battery may not fit as well as the OEM battery and can stretch the cables, sparking problems with the electrical system. "It's so much bigger than just a $5 difference in the part you're buying," Charles says.
It ties up the bay with problems you didn't create. Audra Fordin, a fourth-generation mechanic, says it's almost a guarantee that customers will return to get a repair when they use a cheaper part, and that can tie up the bay. Worse, when that cheaper part doesn't work, it becomes her problem to fix.
Up next: Want more customers? Watch Shop Goals Episode 8 on how to boost car count.
---
Got #ShopGoals of your own?
One thing all the best shops have in common is Interstate Batteries. Always fresh. Always in stock. Always outrageously dependable. Learn more about the service and support you'll receive when you become a dealer.
BECOME A DEALER
---