Back To Blog Home
Grow Sales at Your Shop with a Multi-Point Inspection
Consumers have a laundry list of things to remember to do, from paying bills to their grocery shopping. Car maintenance tends to fall at the bottom of that list and their vehicle care can suffer as a result.
Your customers rely on you to provide check-ups needed to keep their vehicle in top shape. Are you giving your technicians enough time to conduct a multi-point inspection on each vehicle? If you aren't, here are a few reasons you should.
Your Customers Expect It
Did you know that 74% of customers believe they're getting a free multi-point inspection when they bring their vehicle in for routine maintenance?
Not Inspecting is Leaving Money on the Table
Half of customers will give the go-ahead to make suggested repairs or maintenance while their vehicle is already in the shop.
Clearly Communicate or It Could Cost You
The number one thing that convinces customers to make repairs is a verbal discussion with the technician. Second is a written report clearly listing the issues. Did you know that 24% of customers claim the results weren't explained to them and 8 in 10 customers say they are more likely to make the repair when they are shown photos or the actual part that needs to be repaired? This means that a verbal discussion and a paper report are a winning combination for your shop.
Don't Get Technical
Consumers are 44% more likely to make repairs when you make it simple. For example, instead of telling them their battery is functioning at less than 50%, tell them their battery has about two weeks left.
Be Thorough
34% of customers will never return to a repair shop if their battery fails within 30 days of being check, so do your best not to miss anything!
---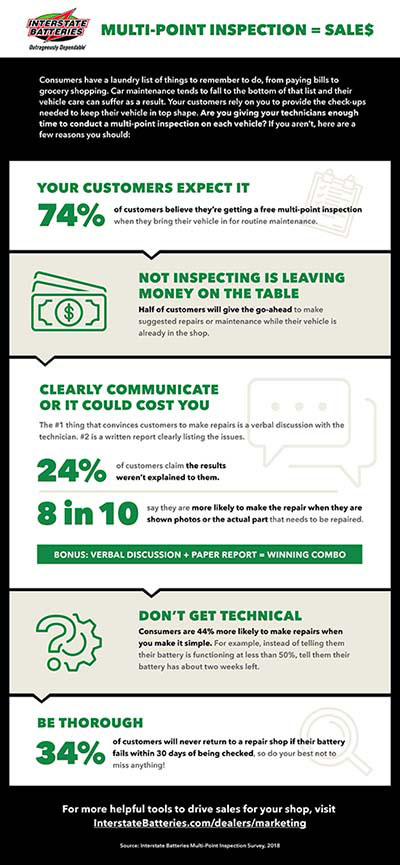 ---

Just like your customers know they can trust your shop with their auto repairs, our dealers know they can trust interstate to provide the most dependable products, services and resources. Join our more than 200,000 dealers and learn how to take your shop to the top. To find out how to become an Interstate dealer, visit: https://www.interstatebatteries.com/dealers.