MAPS & DIRECTIONS
directions
Interstate All Battery Center of Orem, UT
160 East University Parkway, Suite C
Orem, UT 84058
Store Hours
Sunday: Closed
Monday: 8:00 AM to 8:00 PM
Tuesday: 8:00 AM to 8:00 PM
Wednesday: 8:00 AM to 8:00 PM
Thursday: 8:00 AM to 8:00 PM
Friday: 8:00 AM to 8:00 PM
Saturday: 10:00 AM to 6:00 PM
Get Offers, News, and Tips
*at participating store only
Promotions
Are you a power-saver? Then you're in the right place! Here are the latest deals for our store. Check back often as promotions and seasonal offers change frequently.
Auto & RV batteries installed in 30 minutes or less* – no appointment needed!
Is your battery acting up? Call on the from experts you trust. We'll come to you right away to diagnose the situation. Find out if your battery really is dead and needs replacing or if it just needs a good cleaning, a good charge or something else is going on.
Roadside Battery Assistance & Installation
When you need a new battery, just come on by. Our installation experts will have you up and running in no time. Not sure if your battery needs replacing? Our free battery test will let you know for sure. *Most vehicle models.
Free Delivery Service
Call store for details.
Free Battery Test
Know before you go. Free at Interstate All Battery Center stores.
Click Coupon for More Information
Click Coupon for More Information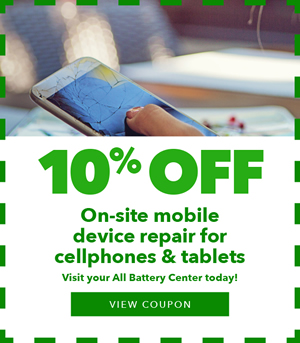 10% Off Mobile Device Repair
On-site mobile device repair for cellphones & tablets. See coupon for details.
Reviews
| July 26, 2019
Warren Daniel
October 13, 2018
|
Brad Wood
Friendly and quickly efficient workers I always buy interstate car batteries.
December 8, 2017
|
Fritz Burdette
Easy and fast service. Also the reputation of the batteries
October 2, 2017
|
Tyson Dewsnup
The cashier, who I believe was also the owner and/or manager was great! Very personable and acted very appreciative of my business.
August 12, 2017
|
Ed Wightman
Very good good store clerk at this Orem, Ut store. Friendly, knowledgeable and makes you want to come back for all my battery needs.
Read More Reviews