Back To Blog Home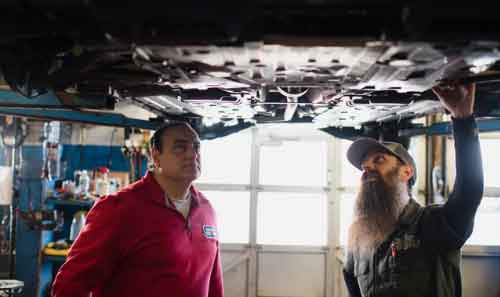 Episode 8: How to Boost Car Count
Starting your own free car maintenance classes could have the biggest impact on your auto repair shop marketing plan.
With longer stretches between car maintenance milestones, customers aren't coming into the shop like they used to. One trend in auto repair shop marketing—and a lot of other businesses—is to focus less on "push" and more on "pull." That could mean holding free auto care clinics for your customers on that hot, new car model or offering rewards for repeat visits.
Educating and empowering your customers builds trust and community. And that can have a big impact on your overall car count.
Start your own school. Audra Fordin, a fourth-generation mechanic, more than doubled her business in a recession when she started hosting free car care and safe driver classes under the name Women Auto Know. She also acts on another passion: working with kids. Audra visits local schools on career days and Boy and Girl Scout meetings to talk about the auto repair industry.
Offer loyalty cards. Audra says she took a cue from the nail salon and started offering rewards cards. For example, after a certain number of visits—between 5 and 10—you get a free oil change.
Give customers a head's-up on expenses. All three of our Shop Goals mechanics say they give customers a head's-up—like six months or more—when a new expense is coming down the line. This could include new tires or a car battery. It gives customers time to prepare and save for a quality replacement part and gets them thinking about future visits to your shop.
Keep your name out there. Charles Sanville, the Humble Mechanic, says flyers on windshields, radio ads and social media should fuel your auto repair shop marketing, too: anything to keep your shop top of mind when something goes wrong with a customer's car.
Up next: Use social media to attract more customers. Learn how in Shop Goals Episode 9.
---
Got #ShopGoals of your own?
One thing all the best shops have in common is Interstate Batteries. Always fresh. Always in stock. Always outrageously dependable. Learn more about the service and support you'll receive when you become a dealer.
BECOME A DEALER
---