Back To Blog Home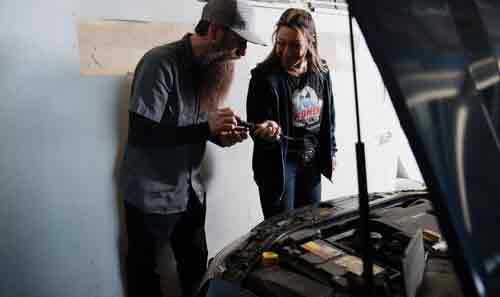 Mentoring in the Workplace Helps Retain Top Tech Talent
It doesn't take an automotive industry veteran to tell you that there is a significant shortage of qualified technicians or that the shortage is impacting shop owners both big and small. Due to the insufficient pool of applicants, shop owners are having to take crucial measures to ensure they are attracting and retaining top talent techs.
To help technicians and shop owners take their shop to the top, Interstate Batteries® recently brought together industry vets in a digital content series titled "Shop Goals." During conversations with the Humble Mechanic Charles Sanville, Soundview Servicecenter Owner Ralph Parente and Women Auto Know Founder Audra Fordin, there was one thing they all remembered from their early careers that made the world of difference in their success: a good mentor.
What Is the Role of a Mentor?
Whether a graduate from a renowned technical institute or a car enthusiast who decided to pursue a passion, every tech was the new kid on the block at some point in their career. In the beginning when opening the hood can seem intimidating, there is an opportunity for established technicians to share their wisdom and know-how to become a mentor to younger technicians. By injecting that enthusiasm into today's new mechanics, we can make sure their desire to fix cars doesn't fade.
How to Become a Mentor
Becoming a mentor to a new technician doesn't require a formal process or have to be an extreme ordeal. Rather your attitude and willingness to teach can make all the difference. According to industry vets, standout mentors possess two simple traits:
Know the Tricks of the Trade

While you don't have to be the best mechanic to be a great mentor, it's important that you know your way under the hood and can bring your mentee up to your level of expertise. It's up to the new mechanic to continue to excel in the shop, but by showing him or her the ropes, you set the stage for continued growth.

Desire to Help
Mentoring can't be forced. Not everyone has the desire to teach and some ultimately fail their mentees when forced into a mentor role. A great mentor cares about the new hire and is passionate about leading him or her to success. Helping a new mechanic is an investment and takes additional time and resources. It is crucial that the mentor truly wants to help the mentee get the training he or she deserves.
Shop owners should remember that, in the long run, investing in your team will not only help increase tenure and show technicians how to be a good mentor but will ultimately increase profits for your shop. Take time to ensure your young techs are being taught correctly; and be flexible with the mentors as they mold your new talent. Afterall, the automotive technicians of today are the shop owners of tomorrow.
---